The 72nd Annual Musky Festival Grand Parade is presented by: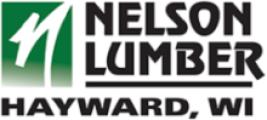 Sunday, June 26, 2022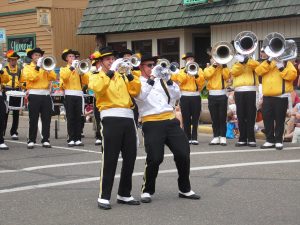 1:00 pm Historic Main Street
The Finale of the Musky Festival celebration is the Grand Parade on Sunday, which marches down Main Street in downtown Hayward, WI. The Grand Parade features area business and non-profit floats, area High School and professional marching bands, clowns, horses and more!
All applications subject to approval by the Musky Festival Committee and/or the HACC Board of Directors.
Submit ALL required materials by June 10, 2022.
Failure to provide the required materials will delay approval of the application.
The 71st Annual Musky Festival Grand Marshal was Cheryl Treland!

The Hayward Area Chamber of Commerce is honored to announce Cheryl Treland as the 2021 Grand Marshall for the 71st Annual Musky Festival.
Cheryl grew up in the Hayward area and is a graduate of Hayward High School. Following graduation, she attended UW-River Falls where she completed a BS in Education. After six years teaching high-school PE in Beaver Dam and Green Bay and several years selling insurance as the manager of Boncler Insurance in Hayward, Cheryl returned to resort-life to help run and grow the family business – Treeland Resorts – to what it is today.
Started by Cheryl's grandfather, Oluf Treland, Treeland Resorts is nearing 100 years as a family-owned and operated, local area business where giving back to the community is front and center. Its success is in no small part due to Cheryl's leadership from her early years growing up in the business to acquiring and operating the business from 1982 to today.
She has an unfaltering commitment to not only her business endeavors but also to the Hayward area writ large. Over the years, Cheryl has founded several community-based organizations in the Hayward area to help promote and bring together the community.  For example, she founded the Hayward Ski Skats waterski club where she led and performed in over 27 shows from 1970-1974. In 2007, Cheryl established Chippewa Partners – bringing together stakeholders across the Chippewa Flowage – and, to this day still serves as the Chair.
Cheryl does not shy away from volunteering her time and talent to causes and organizations she believes in. For over 30 years, she has served as a Board Member and current President of the Lake Chippewa Flowage Resort Association. Cheryl's dedication as a Board member and past President to the Hayward Lakes Resort Association and the Sawyer County Recreation Association lead these organization to a merger in 2002 to which is now known as the Hayward Lakes Visitor and Convention Bureau. For 13 years, Cheryl served as a Board member and Chairperson (for eight of those years) for the Chippewa Flowage Area Property Owners Association.  From 2015-2017, Cheryl served on the Board of the Sawyer County – LCO Economic Development Corp. She has spent a lifetime advocating and promoting tourism in the Hayward area and across Wisconsin – serving on a team of representatives, she lobbied with the Wisconsin Department of Tourism in Madison and Washington, DC and served on the Wisconsin State Board of Innkeepers Association for two years. As the Chairman of the First Lutheran Relay for Life for six years, she topped off as the largest individual fundraiser for five of those six years. Cheryl led a complete renovation as part of the First Lutheran Church Kitchen Committee in 2018-2019 and currently serves on the Board of the Hayward Civic Club (dba Hayward Golf Club) – leading both clubhouse and kitchen renovations this past year.
Her dedication and leadership have not gone un-noticed. In 2009, she received the Northland's News Center Women in Leadership Award for outstanding dedication to family, profession, and community. Cheryl was named the 2016 Wisconsin Governor's Trailblazer Award for Women in Business and in 2018 received the Hayward Area Chamber of Commerce Women in Hospitality and Business Award. Earlier this year, she was awarded the 2021 Warren Knowles Award for the promotion of tourism, fishing, and environmental enrichment in Wisconsin.
Cheryl's dedication is unmatched, passion contagious, heart abundant, and her promotion of tourism in the Hayward area is unapologetically in the forefront of everything she sets out to do.  She puts family and community first while maintaining high business standards in all endeavors – making her the perfect Ambassador for the Hayward area and the 71st Annual Musky Festival. We are honored to recognize Cheryl's selfless service and significant contributions to the Hayward area and thrilled to have her as our 2021 Grand Marshall.