The 72nd Annual Musky Festival Grand Marshals are
Don & Sandy Sheehan!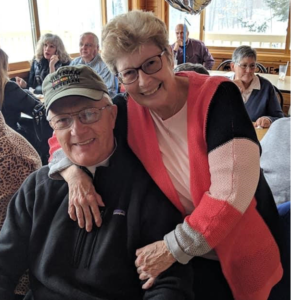 The Hayward Area Chamber of Commerce is honored to announce Don and Sandy Sheehan as the 2022 Grand Marshals for the 72nd Annual Musky Festival.
Don graduated from Hayward High School and then entered the United States Army and served in the Viet Nam War. Sandy (Laska) Sheehan also graduated from Hayward High School and moved to Arizona to live with her sister and work at the Navajo Division of Coconino Courthouse while Don was serving his country. Don returned home in January 1969, and they then married on February 8th, 1969, at First Lutheran Church in Hayward. They moved to El Paso, Texas where Don finished out his tour with the Army at Fort Bliss. Don and Sandy went on to have three children: Julie, Jon, and Jenny.
Don and Sandy moved back home to Hayward in January 1970. Don first worked as a police officer for the City of Hayward. As they raised their family, he took a break from Law Enforcement to work with his brother-in-law, Howard Morgan, doing electrical work until we was hired as Chief Deputy of Sawyer County for two years and then was elected Sawyer County Sheriff.  Don was Sheriff for 20 years before retiring for the first time. After realizing how much he missed law enforcement and helping our community to be safe, he came out of retirement to fill the position of Assistant Chief of Police for the City of Hayward. After a year in that position, he then became the Chief of Police again until he permanently retired around 2010. Shortly after his final retirement, Don started having health issues. Don was diagnosed with ALS on October 31st, 2018, after struggling with various symptoms. Sandy worked at People's National Bank on Main Street as a teller and then became a loan officer for many years there. She was eventually diagnosed with Rheumatoid Arthritis and was forced to retire in her early 50s due to immense pain in her joints.
"Although Don and Sandy currently both suffer from debilitating medical issues, they continue to support the local community as much as possible," said current Chief of Police for the City of Hayward, Joel Clapero. "Don was diagnosed with ALS and instead of retreating and letting this terrible disease run his life, he has shown steadfast and remarkable courage and actively participates in fundraising for ALS."
Don, Sandy, and their family are very active in the ALS Association Wisconsin Chapter. Maggie Shelledy McAsey, Development Manager for the ALS Association Wisconsin Chapter, said, "The Hayward community has had a strong partnership with our organization thanks to the volunteer leadership of Don and Sandy Sheehan, John and Deanna Jaeckel, and their family and friends." Together they lead the Jaeckel/Sheehan 5K Walk vs. ALS every August.
"I have been so grateful to partner with Hayward through the Sheehan family and the example they set of generosity, strength and community pride," said Shelledy McAsey.
A few other notes from people whose lives have been touched by the Sheehans:
Patty Anderson Treland said, "They seem to 'adopt' people who need extra care or help. They feed them, drive them to appointments and to the hospital when needed, and include them in their family activities. They are constantly giving of themselves without expecting anything in return."
"Sandy has selflessly and tirelessly taken care of many residents from Hayward in her lifetime. My personal experience with her was a gift from Heaven. When my Grandmother, Dorothy Simington, became a widow (Don and Sandy) always included her and took her places and checked on her," said Tammy Drombolis. "She (Sandy) has changed a lot of lives simply by being there and helping."
Lynn Fitch said, "Don has served this City and County through decades of employment in law enforcement not only has an officer, but as Chief of Police and Sawyer County Sheriff. He has obviously earned a vote of confidence from Sawyer County residents. They (Don and Sandy) have a lifetime of volunteerism in the greater Hayward area."
"I know they (Don and Sandy) have helped many young people through church activities and are always there for their family to excel in sports and educational activities. Sandy, who thinks nothing of having the whole high school team to their house for a wonderful dinner and camaraderie, has health issues but that doesn't stop her from helping others," said family friend, Nancy Woodbeck.
Julie Zawistowski, one of Don and Sandy's daughters says, "they are the best parents to their three children and grandparents to their six grandchildren as well as their step-granddaughter and step-great-grandson. They are always there for us even as they struggle with their health challenges."
Don and Sandy both continue to remain active at Spider Lake Church, as well as the VFW Musky Capitol Post 7233 and the VFW Auxiliary. They both have served various positions in each of those organizations while working as well as during retirement.
Zawistowski said, "They are both extremely positive individuals as they face daily health struggles. They continue to be strong and supportive Hayward community members who are revered as amazing people."
The Hayward Area Chamber of Commerce is proud to honor the Sheehans and their selfless contributions throughout their lifetimes to the Hayward area community.
The Sheehans will be honored during the Musky Fest Grand Parade on Sunday, June 26 at 1 pm.