The 73rd Annual Musky Festival Grand Marshal is
Jim Onarheim!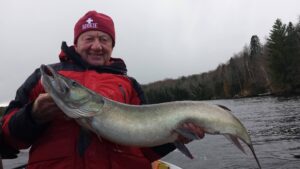 The Hayward Area Chamber of Commerce is honored to announce Jim Onarheim as the 2023 Grand Marshal for the 73rd Annual Musky Festival.
Jim is passionate about Hayward and promoting Sawyer County. He volunteers his time at sports shows in the winter months and the Monday Flea Market in the summer at Hayward Sports Center (with no direct benefit because he sold his resort in 2017). He currently holds positions on the Hayward Lakes Visitor and Convention Board of Directors (including past president and vice president), and the Town of Round Lake Volunteer Fire Department. He also jointly organized and started the Youth Musky Hunt on Moose Lake. Jim also is on the Board of Directors for the Youth Conservation Alliance. He has been an EMT (Emergency Medical Technician) for Sawyer County for close to 20 years. He volunteers for several events as an EMT including Birkie Week, Sawyer County Fair, and the Lumberjack World Championships. He was a past board member on the First Lutheran Church board and has invested over 20 years on the Board for the Moose Lake Improvement Association. He has actively been a Hunter Education Instructor for 29 years for the DNR, and a member of the Masonic Lodge and Shriners International. He always has a love to give back to the community that he lives in.
The Hayward Area Chamber of Commerce is proud to honor Jim and his selfless contributions throughout his lifetime to the Hayward area community.
Jim Onarheim will be honored during the Musky Fest Grand Parade on Sunday, June 25 at 1 pm. We hope to see everyone there!